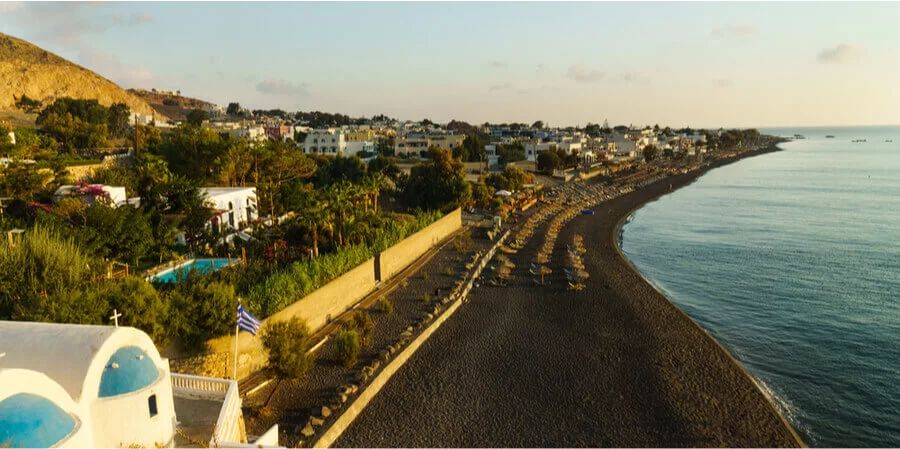 Kamari is a coastal village of Santorini, located on the southeastern part of the island. It is only a few miles away from the capital of Santorini, Fira, and it is easily accessible by any kind of vehicle that includes busses,motorcycles and of course cars. Kamari is also one of the most popular seaside resorts in Santorini, featuring a great volcanic  beach  with deep crystalline waters. If you want to travel in the most relaxing and independent way, renting a car in Kamari is the best possible choice for you. Kamari is the village where the airport of the island is hosted.This makes it a great starting point for all your excursions with your rental car in Santorini. 
Kamari Pick Up/Drop Off AutoCenter Service
Autocenter Santorini car rentals offers   24-hour pick-up and drop off services at Kamari rental meeting point, so that you don't have to worry about any inconvenience on your arrival. Our reliable pick-up service will be anticipating your arrival at the pre-arranged meeting point. Santorini rental car services also assume the task of picking up your rental car upon your departure from Kamari.Our ultimate goal is to ensure in every possible way that you will have the most comfortable way of transferring during your vacation.
How to book car hire in Kamari
Enter your dates and choose Any hotel in Santorini as pick up and drop off locations for your car rental. You will then see quote for various car types. Choose the car type that suits you best. Then enter your details over a secure server and we will do the rest. Once confirmed, you are guaranteed to received the car of your choice on the day and at the time you have specified.
Get the car of your choice in Kamari in 5 simple steps:
Complete reservation through our secure online reservation system, choose Any hotel in Santorini as your pick up location and make sure that you have filled all the appropriate fields.
Receive reservation confirmation to your e-mail inbox with your reservation No. tip: Check your spam folder in case you don't see the confirmation e-mail in your inbox folder.
Our staff will come to your hotel/villa so as to complete the car rental agreement.
For your identification to proceed you should keep handly your driving license and your credit card.
Our staff will guide you to pick up your car rental from the related parking area in Kamari.